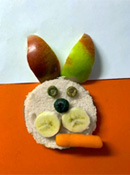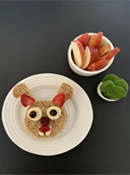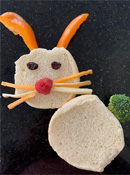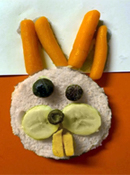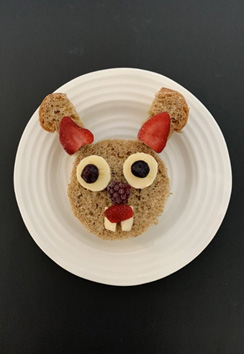 Now is a great time while at home, to practice cooking skills with your children. Here is a fun spring themed recipe for a bunny sandwich.
Steps to prepare a sandwich:
Wash your hands, clean the workspace before and after making the sandwich.
Collect the ingredients:

bread
peanut butter
jam
banana
cheese
apples and/or strawberries

Collect the tools:

tray
butter knife
spoon
plate

Organize the workspace:

Place the plate in the centre of your workspace.
Place the ingredients and tools on the left side of your plate and move them to the right as they are used.
Place tools on the tray and try to return tools to the tray to make them easier to locate.

Prepare the food:

Place two slices of bread on the plate.
Put a scoop of peanut butter on one slice of bread, use the butter knife to spread.
Peel banana and cut in half. Cut one half of the banana into circles to make coins for eyes. Cut the other half lengthwise to create ears.

Clean up
Substitutions – Cheerios, blueberries, raisins or other foods you have on hand can be used to make details like eyes, mouth and whiskers. Use cookie cutters that you may have at home to make shapes needed to make a bunny or another shape that your child might enjoy!