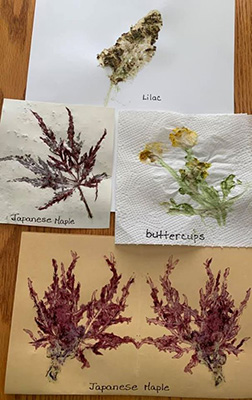 While on your nature walk, gather flowers and leaves with bright, vibrant colours that aren't too juicy or dry. My hammered dandelions didn't turn out too well since they were too juicy – especially the stems.
You will need a hard work surface (like a driveway).
a few different types of hammers
roll of paper towels
newspapers
scissors
different types of cardboard to experiment with (e.g. braille paper, cereal box, watercolour paper, heavy cardstock)
Place a leaf or flower on your cardboard and cover with several layers of paper towel and newspaper.
Here's the fun part - hammer away! You can choose a systematic method to avoid missing any areas – e.g. hammer vertically up and down and then horizontally left to right.
And finally, the unveiling! You will want to experiment with different techniques and mediums to achieve your desired outcome. I even experimented with a clipping from my cedar tree in my backyard. It didn't turn out very pretty, but the scent was incredible! 
It would be fun for children to turn this Hammered Leaf and Flower Print sensory craft into a personalized card or print for parents or grandparents!