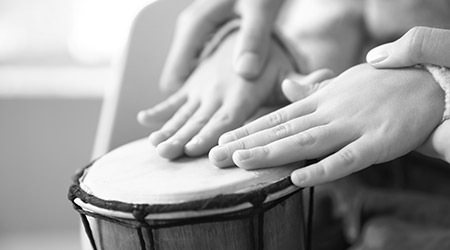 Activity #1 – Move to the Beat
 It also emphasizes learning to follow directions, starting and stopping at an appropriate signal, and improving auditory processing.
Materials:
Drum or drum substitute (e.g: upside-down bowl or cooking pot)
Before Playing:
Find an open, familiar space in which child can safely move about.
Clear the area of any obstacles
How to Play:
Have the child stand in the open space.
Give the direction to walk when the drum says "walk" and stop when the drum says "stop."
Play a simple beat on a drum and have the child walk until the drumbeat stops.
Observe the child's normal walking pace to determine the appropriate tempo. Provide enough space to avoid bumping.
Child can take turns being the drummer.
Variations:
Add verbal directions to walk and stop at first but withdraw them as soon as possible so that the drum provides all auditory cues.
Use fast taps as the cue for running.
A tap on the rim provides a different sound, which can be a cue to walk backwards.
Activity 2 – Echo Playing
Music is an excellent tool for teaching children to follow directions and work on listening skills. Additionally, this activity works to improve auditory processing, short-term memory, and a sense of rhythm.
Materials:
One or two drums or drum substitutes (e.g: upside-down bowl or cooking pot)
How to Play:
Child and parent each have drums or share one drum.
The direction is given to listen and then do the same drumming pattern.
Play a four-beat rhythm pattern, such as "One, two, buckle my shoe" and have the child repeat that pattern.
Play another pattern and have the child repeat it.
Let the child take turns playing patterns for the parent to repeat.
Variations:
Use other instruments, such as rhythm sticks or wood blocks.
Vary dynamics. The child can do the same or opposite dynamic. (e.g: "If I play loudly, you play softly.")
For more advanced students, extend the rhythm pattern beyond four beats.
Hints: Adding words that fit the rhythm pattern ("One, two, buckle my shoe") can help students who have a weaker sense of rhythm. Also, waiting and listening before playing is more difficult than playing a steady beat or rhythm pattern with the parent. Echo playing can be preceded by echo singing, or hand-over-hand assistance can be used.