Have books ever inspired you in a way you did not expect? A Touch by Carlotta Vaccari is a beautiful children's twin vision book with removable hearts on each page. Every heart has a unique tactile quality such as soft, velvety, and tickly. This book was the inspiration for the following craft.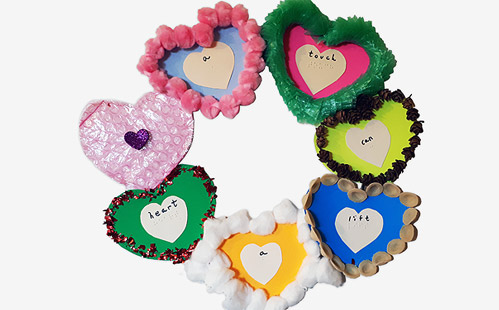 To make this wreath you will need the following:
Two bowls (1 large and 1 small)
A thick dark marker
Piece of cardboard
Scissor
Poster board - colors of your choice.
Heart shaped pattern
Tactile items

E.g. pompoms, a toy lei purchased at a dollar store, very small pinecones, pasta, cotton balls, glitter, bubble wrap, heart shaped stickers, etc.

Liquid glue
Optional: If you want to add a braille/print message in the middle of each heart you will need a brailler and braille paper, or embossable labels. You can use a marker or a crayon to write the print message.
Command picture hanging strips, masking tape, or way to hang wreath.
Directions: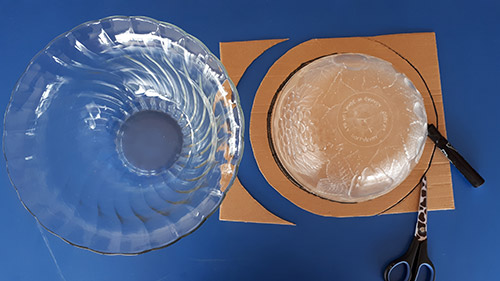 Center your larger bowl on the cardboard. Trace around, then cut.

Trace around your bowl with a thick dark marker which provides good contrast.
Other options to trace around the bowl may include:

Dimensional fabric paint or liquid glue which creates a tactile marking.
Paper clips or looped masking tape to secure a pattern while you cut without markings, removing paper clips as you come to them.

Place the smaller bowl in the middle of your cardboard circle, trace, and cut.

You may need help from an adult who can very carefully poke the scissor in the middle and begin the cutting for you. A craft knife, cutting board, and adult help will also work.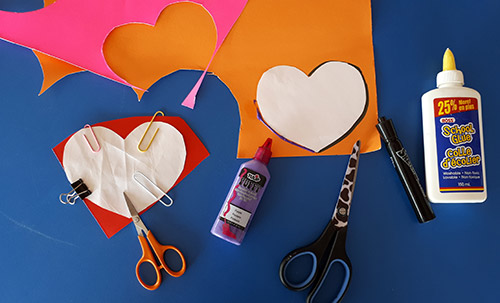 Trace around the heart pattern on the poster board to make enough hearts to cover your wreath.
Cut out the hearts.
For optional Braille/Print Message: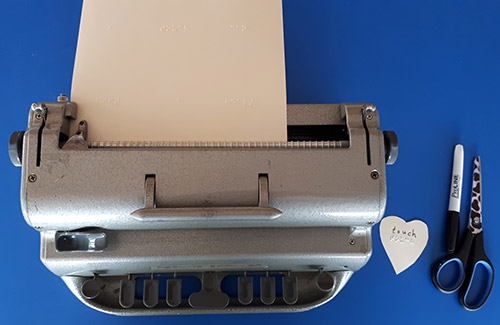 Braille your message either using braille paper or embossable labels. If using braille paper, leave enough room around each word to cut out a heart.  The message on this wreath is "A touch can lift a heart".
Remove your paper and cut a heart shape around each word.
Print the words above or below the braille if you wish.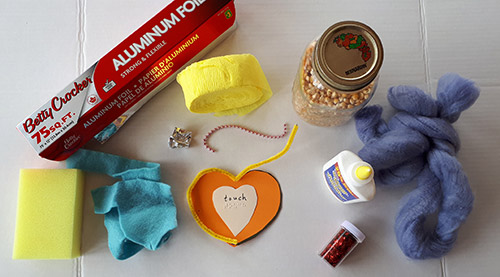 Glue the small message hearts inside the larger hearts.
Glue something tactile around each heart.
Position hearts around the wreath, covering as much of the cardboard as you are able.
Glue hearts onto wreath backing in this position.
Optional - Glue other things you have on hand that are tactile onto the wreath as needed to cover up any cardboard that you feel or see.
Find a nice empty spot on a door or wall to hang your wreath and enjoy!
Reference
Vaccari, Carlotta. (2018) A Touch.  Les Doigts Qui Rêvent (Dreaming Fingers) isbn 9782365930970.