---
Cindy Millar, APSEA's AAC Consultant, sits as the national council member for Atlantic Canada on ISAAC-Canada (International Society of alternative and Augmentative Communication). Her article was published in the most recent edition of Figuratively Speaking. Permission for reprint granted by ISAAC-Canada. With special thanks to: Marla Calder,Occupational Therapist, Game Changers Project-Stan Cassidy Centre for RehabilitationAlissa Lee, Executive Director-The Stan Cassidy Foundation.
---

The Game Changers project became a reality at the Stan Cassidy Centre for Rehabilitation (SCCR) in October 2017. Game Changers provides the first accessible gaming service in Canada, creating an opportunity to advance research in gaming technology, and its impact on patients' lives.
The overall goal of the project is to provide assessment and training so that patients who have severe physical limitations are able to set up inexpensive, effective personal mainstream gaming stations, in their own homes.So, how is the Game Changers project doing this? First, the Stan Cassidy Foundation generated the required funding through major gift, community and event fundraising. Second, a professional assistive technologies team was assembled. The team is made up of an Occupational Therapist (OT), a Recreational Therapist and a Rehabilitation Engineer. Third, SCCR dedicateda computer lab, demonstration equipment, as well as space where the team members meet with the patients to develop individualized technology solutions.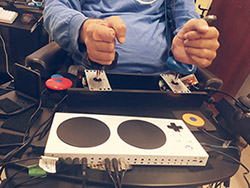 Many patients can benefit from accessible video gaming equipment as an integral part of rehabilitation therapy. Able gaming can improve mental health, cognitive growth and physical ability. For some people who have a neurological disease or spinal cord injury, the video gaming experience enables social engagement and access to a range of virtual settings.Gaming can support patients as a motivational tool, as a diversion, and as an important component of an overall intervention plan.The project serves pediatric and adult patients, Anglophone and Francophone, from across Atlantic Canada.
Marla Calder, the OT on the team, is usually the first team member to meet a patient looking for support from the Game Changers project. She commented that many of the patients or their families have grown up with gaming. Often they own their own gaming console. However, a change in the patient"s circumstance and physical ability means that adaptation is needed and so the Game Changers service is an option. "Nothing is plug and play," commented Marla, and through her portion of the assessment, she focuses on access. She collects assessment information via several assessment tools and ensures that the patient is an active participant in the process.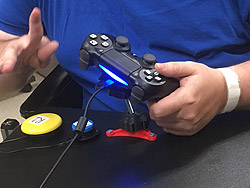 The Recreation Therapist assesses the skills, abilities and interests of the patient and looks for suitable games within the various genre of games (e.g., strategy games, fighter games, racing games, sports games, first-person shooter). She helps determine what games are a good fit with the patient. A good match is critical for success.
The Rehabilitation Engineer helps to make custom solutions to access a gaming system and video games, when needed. The Game Changers room contains four full gaming systems on the most popular platforms, and a huge array of gaming controllers including consumer-level products, foot pedals and "puff and sip" switches. A patient goes through a trial period that can take several weeks, as the team works toward a solution. The team helps identify a system and games that work. The engineer may customize an access piece (e.g., customizedgame controller). The process is completed with both inpatients and outpatients of the SCCR, so can sometimes be intensive over the course of several days or follow a schedule of weekly appointments.
The Game Changers project also helps patients find funding sources, so that the technology can be purchased for personal use. In fact, the Stan Cassidy Foundation is one such funding source through its "Care and Comfort" community program. Marla Calder commented that the typical technology solution is currently in the $300 to $400 range, although solutions can easily climb over $700, as well.
Finally, the Game Changers project is set to help research best practices for assistive technology solutions in video gaming. As the body of information increases from the patient assessments and the process, the efficacy of the solutions will improve.
It has been an exciting first year for the Game Changers project and for its patients in Atlantic Canada!