Hayden with coaches and guide, Anneliese Surmann
As an athlete with the Ontario Para Alpine Team, Hayden Denouden competed in his first big race February 8-10, 2019, at the Durham Region 2019 Ontario Parasports Games in Brimacombe, Ontario. Hayden won the bronze medal in both the Slalom and Giant Slalom events, competing against skiers with varying disabilities.
His next big event will be the annual CADS ski festival in Kimberly, BC March 18 - 22, 2019. There, he will receive extensive training in both ski improvement and racing. The natural progression will be for Hayden to join a local, able bodied ski race team for the 2020 ski season. At that time, he will race with both teams.
It is a reasonable goal for Hayden to represent his province of Nova Scotia at the Canada Games in 2023! GO Hayden GO!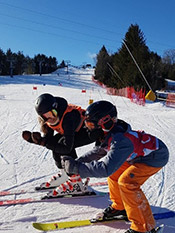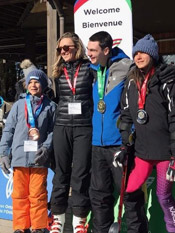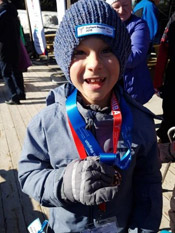 - Submitted by Hayden Denouden and Nova Herring (BVI Itinerant Teacher) / written by Cheyanne d'Entremont (Hayden's mother)