Audiologist explaining the components of a hearing aid to students.
APSEA recently hosted two classes of Bachelor of Education students from Mount Saint Vincent as part of the students Technology in Education class.
Reg Dunphy, Audiologist, and the AT/AAC team (Cindy Millar, Kelly McKeage and Lynn Seymour Lalonde) were the APSEA presenters. The students learned about the types of technology that is available for students who are deaf and hard of hearing and/or blind or visually impaired. They had the opportunity to meet and discuss topics with the APSEA specialists, as well as participate in hands-on activities which included the operation of the assistive technology devices.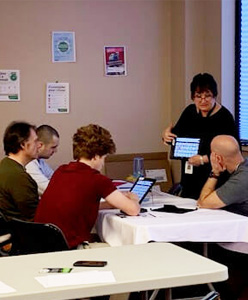 AAC Consultant demonstrating communication strategies to students using with the Proloquo2go app on the iPad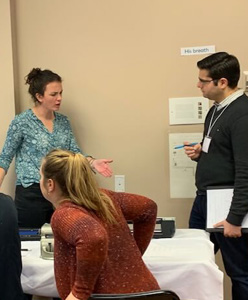 Assistive Technology Resource Teacher discussing the use of Braille Devices with students.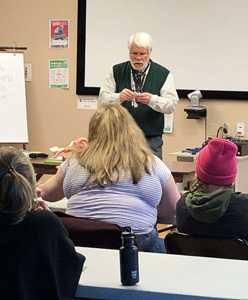 Audiologist describing the elements of a Cochlear Implant to students.